Ottawa, Canada (July 3rd, 2010)
YEMENI COMMUNITY HOSTS QUEEN OF SHEBA SOCCER TOURNAMENT
Once again this year, Ottawa's Yemeni Community hosted star athletes from Yemeni communities throughout North America, to participate in a rousing day of competition, known as the Queen of Sheba Soccer Tournament.
On the morning of July 3rd, six teams from all over Canada and the United States gathered for this annual event, with 2010 marking its Sixth Anniversary. This year's venue was at the RA Centre on Riverside Drive and the matches took place in the beautiful park by the Centre, overlooking the river.
Many interested spectators watched the exciting athletic competition throughout the day. Although all teams played exceptionally well, this year, the team from Michigan triumphed, replacing the Ottawa team who achieved first place in 2009.
The event was also attended by Chelby Marie Daigle from the project known as Making Ottawa Safer Together (MOST), who gave inspiring advice to the young people about fostering leadership and successfully bridging the broad ethnic and cultural diversity flourishing in so many of our communities.
Ambassador Khaled Bahah presented the victors with the Queen of Sheba Cup, delivering a speech in which he congratulated all participants and confirmed the great importance of these events to connect and inspire Yemeni communities from across the continent. He also expressed the continued commitment of the Embassy to support and participate in these activities.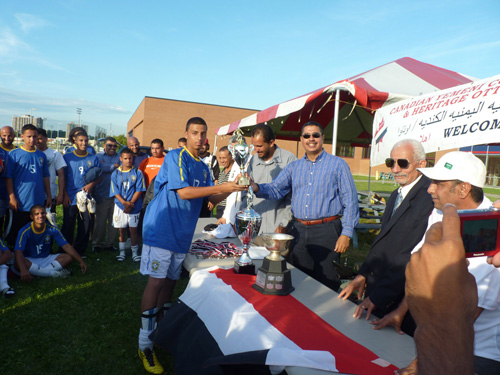 ---